Counselling and Therapy for Bereavement
My name is Richard Backes, I'm a qualified and experienced counsellor and psychotherapist, based in Oxford Circus. You can phone or text me on 07514067595 or email me. The following page is about counselling and therapy for bereavement.


The Cycle of Grief
While everyone experiences bereavement differently, there are feelings which can be seen as common to us all. Elizabeth Kubler Ross in her book "On Death and Dying" talks of the "Cycle of Grief" As a rough model "The Cycle of Grief" can help us to find a pathway into and through bereavement.
First there are feelings of shock and disbelief – "It can't be true!"
This can often be followed by denial: when the initial shock passes we may try to deny that the death has occurred for example we might think we saw or heard the person.
Anger may follow: you may say "Why me?" there is a sense of injustice.
Guilt and a sense of blame might come out in various ways for example you may blame the people responsible for the care of the person who has died, "they chould have done more" or "I could have done more"
Despair can come on the wake of such angry feelings whereby life loses its meaning and its very purpose.
With an eventual acceptance of the loss we can experience the extent and the depth of our feelings, being able then to recall the person who has died and make their loss a part of our lives
We won't, all of us, experience each of the stages, nor necessarily will they be in this set order. Having come a certain amount of the way towards acceptance of the loss, we can find ourseleves in denial or feeling very angry.
Hidden feelings that can stop us fully grieving
Hidden feelings of anger can make it difficult to come to terms with our loss. It is common to blame ourselves for the deaths of others. Especially where we may have had mixed feelings towards the one who has been lost – with undercurrents of both love and hostility. It is very difficult to own these mixed feelings. They may come out in other ways as we become angry with a close family member or the doctors at the hospital or we turn it on ourselves and think of ourselves as worthless or bad.
Sometimes we cannot think of the person who is lost as separate from ourselves, believing that everything that has happened was in some way caused by us – we blame ourselves for what has happened. In beginning to recognise the separation from the person we love, the grieving process can really begin as we become stronger in connecting to the reality of our loss.
How can therapy help?
A therapist aims to help you to grieve your loss, and find meaning and purpose in life again.
Some References and Reading
On Death and Dying by Elizabeth Kubler-Ross
BBC Website http://www.bbc.co.uk/health/emotional_health/bereavement/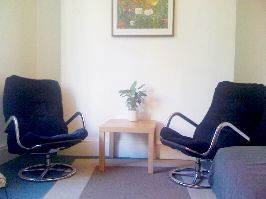 If you would like an initial chat to see how counselling and therapy for bereavement may help you, then do get in touch by calling 07514 067595 or
email me
If you decide you would like to come for counselling then sessions cost £50 an hour.
My address is:
25 Margaret Street
London
W1W 8RX
click here
for map.
bereavement counselling Oxford Circus
bereavement counsellor London W1
bereavement counselling Central London, West End, City of London